Hoy en día no puede ser mas fácil rootear un teléfono celular con SO Android, esto gracias a herramientas como la "SAMSUNG GALAXY S3 TOOLKIT V6.0" que con unos cuantos click puedes hacer muchas cosas a tu SGS3.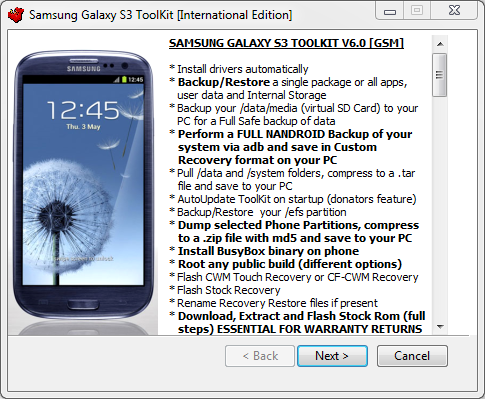 Con estas aplicación puedes (en ingles):
Install drivers automatically
Backup/Restore a single package or all apps, user data and Internal Storage
Backup your /data/media (virtual SD Card) to your PC for a Full Safe backup of data
Perform a FULL NANDROID Backup of your system via adb and save in Custom Recovery format on your PC
Pull /data and /system folders, compress to a .tar file and save to your PC
Auto Update ToolKit to latest push version on startup (donator feature)
Backup/Restore your /efs partition
Dump selected Phone Partitions, compress to a .zip file with md5 and save to your PC
Install BusyBox binary on phone
Root any public build INCLUDING JELLY BEAN (different options available)
[B]Root with Superuser (ChainsDD) or SuperSU (Chainfire) via CWM (works on ANY build)
Flash Stock Recovery
Flash CWM Touch Recovery (thanks to TeamEpic) or CF-CWM Recovery (thanks to Chainfire)
Rename Recovery Restore files if present
Flash Insecure Boot Image for adb mode
Flash Stock Boot Image back to your phone
Create tar file to flash via Odin with 1-click process
Download, Extract and Flash Stock Rom (full DETAILED steps) ESSENTIAL FOR WARRANTY RETURNS
SIM Unlock phone to any Network (thanks to Adam Lange)
Rip cache.img to zip file in CWM format for editing and flashing (thanks to Adam Lange)
Install a single apk or multiple apk's to your phone
Push Files from your PC to your phone
Pull Files from your phone to your PC
Set Files Permissions on your phone
Dump selected LogCat buffers to your PC
Dump BugReport to your PC (if installed)
Help, Information Screen for various tasks
Mods Section to Modify your phone
Reboot Phone options in adb mode
Change background, text colour in ToolKit
Activate Donator features from within the ToolKit
Todo de forma rápida y sencilla.
Aunque lastimosamente el software esta en ingles es muy intuitivo a la hora de ejecutarse, recuerda que lo primero que debes hacer es verificar que los drivers usb esten correctamente instalados, si dudas al respecto de esto ultimo, con esta misma aplicación pues instalar dichos drivers.
Recuerda que como dice el titulo, esto es solo valido para los teléfonos Samsung Galaxy I9300 e I9305, si lo aplicas a otro modelo puedes causar severos daños al software y quedarte con un lindo pisapapeles, cosa de la que no me hago responsable.
Imágenes de la aplicación y enlace de descarga al final de ellas: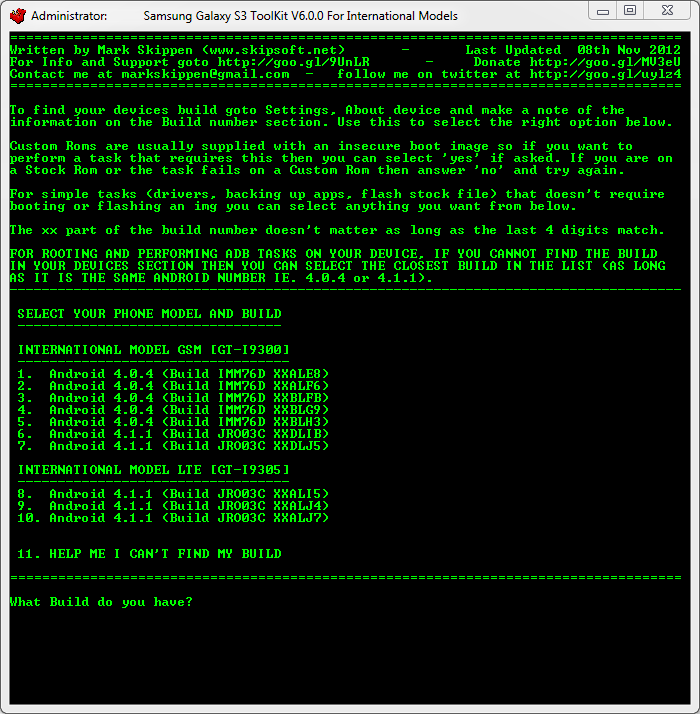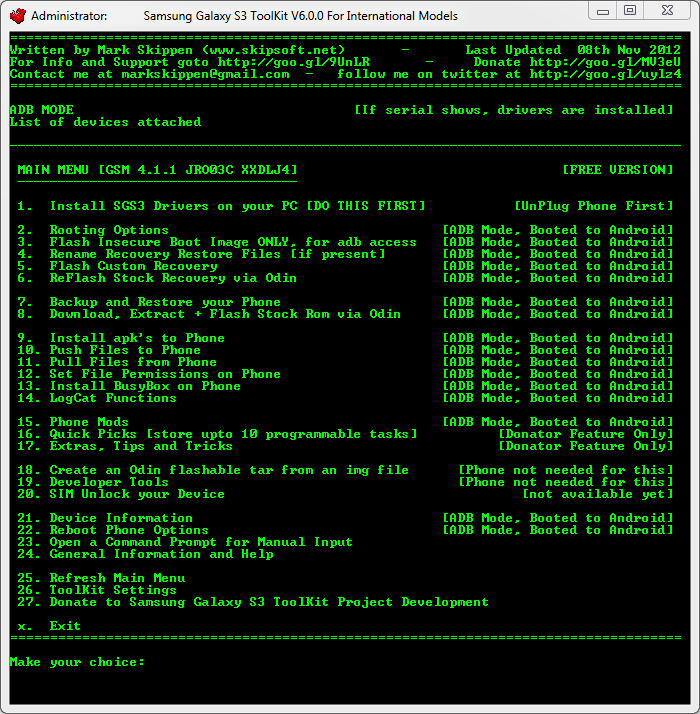 Descargar SAMSUNG GALAXY S3 TOOLKIT V6
Versión original del tema (en ingles XDA Forum)
Comparte este tema: